Reading
Reading
Intent:
At All Saints Church of England Primary, our Reading curriculum is designed to develop a children's love of reading and to develop their reading competency. Our intent is to inspire an appreciation of our rich and varied literary heritage and a habit of reading widely and often. We believe that children need to develop a secure knowledge-base in reading, which follows a clear pathway of progression as they advance through the primary curriculum. Our carefully sequenced, broad and balanced curriculum, underpinned by inclusive practice, aims to provide all of our children with the opportunity to build on their experiences in order to achieve their goals. We believe that a secure basis in reading skills, is crucial to a high-quality education across the curriculum. Therefore, at All Saints Church of England Primary, our goal is to have all children leaving us a competent reader who have a habitual love of reading.
National curriculum:
The programmes of study for reading at key stages 1 and 2 consist of two dimensions:
word reading (decoding)
comprehension (both listening and reading).
It is essential that teaching is focused on developing pupils' competence in both dimensions; different kinds of teaching is needed for each. Skilled word reading involves both the speedy working out of the pronunciation of unfamiliar printed words (decoding) and the speedy recognition of familiar printed words. Underpinning both is the understanding that the letters on the page represent the sounds in spoken words. This is why phonics should be emphasised in the early teaching of reading to beginners (i.e. unskilled readers) when they start school. Good comprehension draws from linguistic knowledge (in particular of vocabulary and grammar) and on knowledge of the world. Comprehension skills develop through pupils' experience of high-quality discussion with the teacher, as well as from reading and discussing a range of stories, poems and non-fiction. All pupils must be encouraged to read widely across both fiction and non-fiction to develop their knowledge of themselves and the world in which they live, to establish an appreciation and love of reading, and to gain knowledge across the curriculum. Reading widely and often increases pupils' vocabulary because they encounter words they would rarely hear or use in everyday speech. Reading also feeds pupils' imagination and opens up a treasure-house of wonder and joy for curious young minds. English 15 It is essential that, by the end of their primary education, all pupils are able to read fluently, and with confidence, in any subject in their forthcoming secondary education.
Implementation: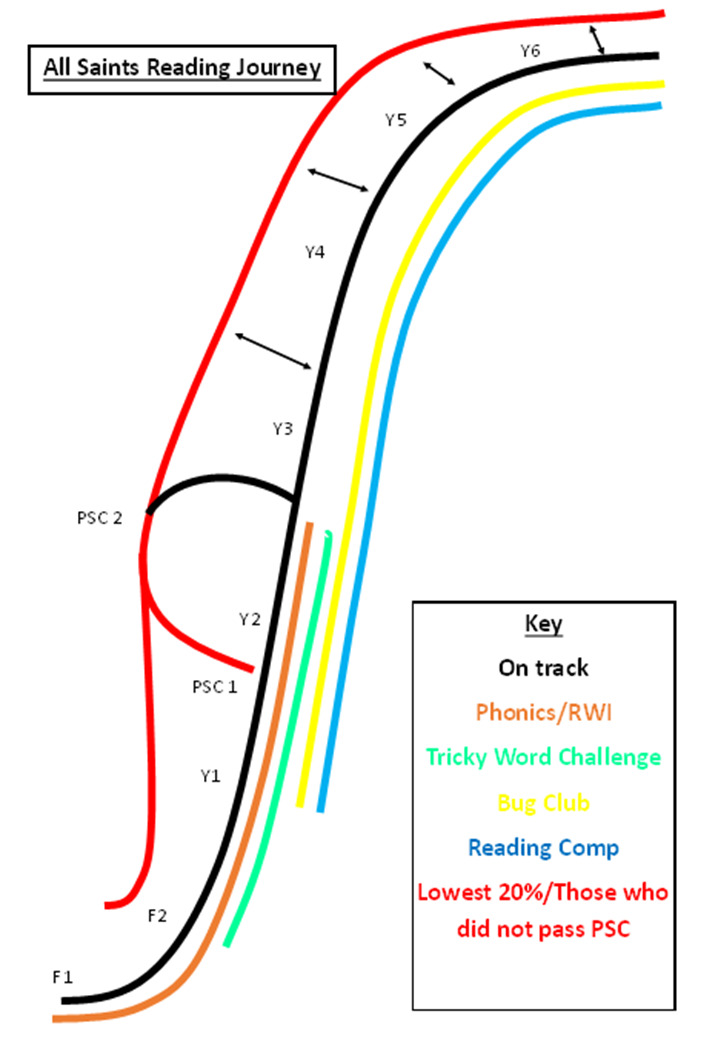 Phonics
Phonics at All Saints C of E Primary is delivered through the Read, Write, Inc. programme. All children in the Early Years Foundation Stage and Key Stage 1 will receive daily discrete Phonics lessons. Read, Write Inc. Phonics is an inclusive literacy programme for all children learning to read. All children will learn the 44 common sounds in the English language and how to blend them to read and spell. This programme includes both a reading and a writing focus.
During daily Phonics lessons, teachers will teach children to:
Apply the skills of blending phonemes to read words
Learn that blending and segmenting words is a reversible process
Read high frequency words that do not conform to regular phonics patterns
Read texts and words that are within their phonics capabilities as early as possible
Decode texts effortlessly so all their resources can then be used to comprehend what they are reading
Spell effortlessly so that all their resources can then be directed towards composing in their writing.
Teachers will ensure that every Phonics lessons is pitched at the correct level for each child, ensuring that every child is sufficiently challenged while able to make clear progress. At All Saints C of E Primary, teachers will also ensure that daily Phonics lessons are stimulating through active learning and encourage consistency of teaching and learning across the school. We will also ensure that Phonics lessons accelerates children's literacy learning leading to improvements in attainment, both in relation to the Phonics Screening Check in Year 1 and throughout the school.
The Read, Write, Inc. Programme advocates the lessons that should be delivered using the 5 Ps:
Pace– good paces is essential to the lesson
Praise/Positive Teaching- children learn more effectively in a positive climate
Purpose- every part of the lesson has a specific purpose
Participation- a strong feature of RWI lessons is partner work (based on research which states that we learn 70% of what we talk about with our partner.)
Passion- this the energy, enthusiasm and passion that teachers put into the lesson that bring the teaching and learning to life!
Here is a useful link for parents, explaining why we teach phonics:
To help with saying the 'pure sounds' in our phonics scheme please watch the below video:
Bug Club:
All Saints use Bug Club Reading Programme as a way of assessing and matching children's reading ability to reading books. Children will be assessed half termly or more often if the children appear to be making accelerated progress. Children at All Saints will access our Bug Club Book Provision from Y1. Below are the expected book bands for children to be accessing in each year group.
| | | | | | | | |
| --- | --- | --- | --- | --- | --- | --- | --- |
| | Reception | Y1 | Y2 | Y3 | Y4 | Y5 | Y6 |
| Lilac | X | | | | | | |
| Pink | X | | | | | | |
| Red | X | X | | | | | |
| Yellow | X | X | | | | | |
| Blue | | X | X | | | | |
| Green | | X | X | | | | |
| Orange | | X | X | | | | |
| Turquoise | | | X | | | | |
| Purple | | | X | X | | | |
| Gold | | | X | X | | | |
| White | | | X | X | | | |
| Lime | | | X | X | X | | |
| Brown | | | | X | X | X | |
| Grey | | | | X | X | X | X |
| Blue (KS2) | | | | | X | X | X |
| Red (KS2) | | | | | | | X |
Reading Comprehension:
At All Saints we use whole class reading in our teaching of reading comprehension. This is where children of all abilities read the same text with varying levels of challenge and support. This ensures that all children: have access to aspirational texts; have the opportunity to have reading modelled to them by the teacher; and are able to work in groups, pairs and independently to build up their understanding, fluency and prosody.
At all saints 'Reading Comprehension' is taught as an independent lesson each day. With one text being accessed as a class per week. The texts that are used are from Literacy Shed+ and are year group appropriate. Though some texts may be too challenging for children to access independently, with adult support all children in a class are able to access the text. Below is the expected lesson structures for reading comprehension sessions:
| | | | | |
| --- | --- | --- | --- | --- |
| Vocabulary pre-teach | Shared Reading | Answering questions | Independent -Supported reading and application of VIPERS | Independent – Supported reading and application of VIPERS |
The Reading strategies that are used in these sessions are VIPERS. VIPERS is an acronym to aid the recall of the 6 reading domains as part of the UK's reading curriculum. They are the key areas which we feel children need to know and understand in order to improve their comprehension of texts.
VIPERS stands for:

The 6 domains focus on the comprehension aspect of reading and not the mechanics: decoding, fluency, prosody etc. As such, VIPERS is not a reading scheme but rather a method of ensuring that teachers ask, and students are familiar with, a range of questions. They allow the teacher to track the type of questions asked and the children's responses to these which allows for targeted questioning afterwards. Please see the below attached progression documents for VIPERS.
Tricky Word Challenge
We are currently developing a Tricky Word Challenge which will develop our children's understanding of common exception words and Red Words (RWI). Watch this space!